The HEARTLAND Prescription for your health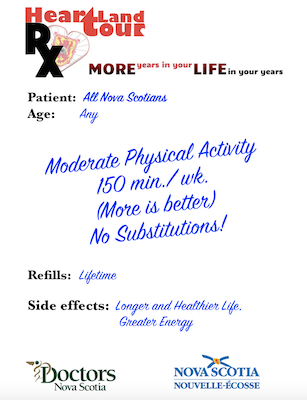 Getting up and moving your body is good medicine - for everyone.
Sit less, move more, it all counts. You can choose any activity you want and do it whenever and wherever works for you.
Everyone can benefit from physical activity. Consult your doctor first if you have any health concerns or are just starting. Begin slowly and gradually build up time and level of effort. It's not a race or a competition. Set a realistic goal for you, team up with a partner, make it fun. Try building your own activity into your daily routine.
You will want to get up to at least 150 minutes a week (for example, 30 minutes for five days a week). More is better. See the link under Canadian Physical Activity Guidelines by clicking on Public Resources (left side of this screen).
By being more active you will feel, look, and be better. You will reduce your chances of suffering heart disease, certain cancers and diabetes. You will push back the signs of aging, your body will work for you, you will be able to do more things. That's what we mean by "MORE Life in your years." Physical activity also helps in coping with stress and dealing with depression. There is growing evidence that active children do better in school.
Physical activity - good medicine for everyone!